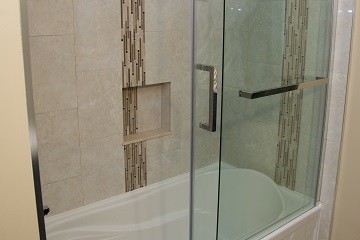 Modern families spend much more time in the washroom, some family members seek out this room to relax and reflect. Since we all have to use this room, why not enjoy it? That is where we come in, we can make it a more inviting environment.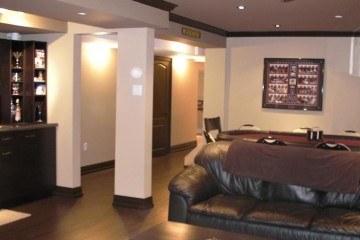 While basement renovations are a great way to add new living space within your home, basement finishing requires decisions about function, style, materials, construction and furnishings.
Why Choose Us


WE ARE PASSIONATE
We have a proven record of accomplishment and are a reputable company in the Mississauga/Toronto area. We ensure that all projects are done with the utmost professionalism using quality materials while offering our clients support and accessibility.



HONEST AND DEPENDABLE
For us, honesty is the only policy and we strive to complete all projects with integrity, not just with our clients, but also our suppliers and contractors. With dozens of successful projects under our belt, we are one of the most trusted construction companies in Greater Toronto Area.


WE ARE ALWAYS IMPROVING
We commit ourselves to complete all projects within the timeline set with our clients. We use the best of technology and tools to ensure that all jobs are done quickly but also giving attention to details and ensuring everything is done correctly.
Who We Are?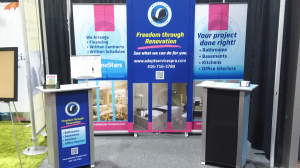 Adept Services traces its roots back to 2003 in Toronto and since then has never looked back. With many successful projects under our belt, we can proudly say that we are one of the most trusted construction companies in the Mississauga/Toronto area performing both residential and commercial construction work. For more than 12 years, Adept Services has offered a wide range of construction services in Burlington, Oakville, Mississauga, Milton, Acton, George Town, Brampton, Toronto and surrounding areas.
We strive to maintain the highest standards while exceeding client's expectations at all levels.
STAIRS RECAP: "Again, Stephan and his crew did a fabulous job. They came in and removed carpeting and capped our treads and replaced the risers. This turned out to be a difficult job as our house was not built with much precision. The job took a little longer than anticipated but Stephen and his crew spent the time and completed the job paying special attention to detail, quality of workmanship and cleanliness. We would certainly hire Stephen again."
Jeanette Crichton from Brampton
BASEMENT RENO: "The Adept people lived up to their name. Drywall work and taping was excellent. They worked efficiently through the steps required, mudding, taping and sanding. The worksite was well cleaned too."
Tim Magill from Toronto
LAUNDRY ROOM RENOVATION - TILES: "We used Adept Services and intend to use their services again. We were very pleased with the thoroughness and quality of their work. Their integrity was evident from beginning to end of the project. Adept Services installed tiles on our 30 year old laundry room floor. No tiles were laid prior to having made sure that the floor / thin set was reinforced and levelled to ensure a solid foundation for the tiles. We were very pleased with the outcome and the knowledge that they did not engage into short cuts. They truly worked in our home as if it were their own property."
Marc Bourbeau from Mississauga
BATHROOM RENOVATION: "Stephen, Petagay and Scott of Adept Services renovated our bathroom with expertise and professionalism. They demonstrated where problems were appearing and made the repairs and finished the project on time and within the budget. The work area was cleaned and everything returned to its place. I will have no hesitation in using their services again and/or recommending them. They were courteous, personable and easy to communicate with."
Mary from Mississauga
DRYWALL INSTALLATION & REPAIR: "Last summer Stephen installed drywall in our laundry room and bathroom. We loved his smooth finish and seamless joints so much that we recently asked him to return to do drywall repairs on some water damaged areas. Stephen is pleasant, polite, respectful of our home and apologetic about the inevitable dust drywall creates. Before leaving each time he would tidy up his work space. His price is very reasonable and we have recommended him to two other friends who all had the same feedback about his work."
Jackie in Etobicoke
POT LIGHTS & DRYWALL: "We cannot say enough about the renovations that Stephen and his crew did in our house. They installed new Drywall in our Master bedroom a ceiling and one wall in another and a third Ceiling in our third bedroom. In addition they installed pot lights in our kitchen and repaired our kitchen walls and installed a new ceiling. They then replaced the ceiling outside all the bedrooms. Stephen and his Wife painted all of rooms and cleaned up the house as only a pro would ! We cannot say enough about the quality and timeliness of all of the above. We lived in the basement as I was recovering from an operation for Cancer. The work went on and caused us no problems or discomfort despite the dust that is generated. Stephan and all the persons he brings into a House are real Professionals who do a fabulous job and complete it as promised! They are the most trustworthy people I have ever had do work in our house!"
John & Maureen Honan in Mississauga
BASEMENT DRYWALL: "My husband and I were quite pleased with the services provided by Adept Services. While doing our basement we contracted Adept Services to do the dry wall. They did an excellent job and did not leave a mess when they were finished. What we appreciated most from them was that if they saw anything that might cause a problem in other areas of the basement that was being done by others, they would freely give us recommendations and suggestions. By doing this they saved us a lot of time and heartache and showed that they cared not just about their part of the job but about us as a client. Would use them again and would highly recommend them to others."
Janice & Huntley Patrick in Mississauga
GARAGE DRYWALL: "It's not often that you find honest, friendly and professional trades people these days. I must say I was pleasantly surprised with the recent dry wall work completed by Steven in my garage. Even for a small project like mine (involving dry of garage ceiling and one full wall), he drew up a contract of what was required and responsibilities for himself and myself with respect to this engagement. It was refreshing to observe that Steven & his colleague were very meticulous in their work and completed their work with quality and pride of workmanship. This was apparent even when he found that he had under estimated the amount of time required to complete the job however, he continued with the job without comprising quality and finished late that day. Even after the job was completed, Steven gave me a call a few days later suggesting some precautions I may wish to take to prevent the drywall from sagging later as he had difficultly securing one of the pieces close to a wall. I intend to undertake additional work with Steven in the next few months."
Prakash Mistry in Burlington
STAIRS, FLOORING & BATHROOM: "I started out with a leaking shower base in the master bathroom that leaked into the kitchen. After having multiple plumbers and contractors come and look and quote work to fix the problem ranging from $1000 to fix the shower base and patch the ceiling drywall to $30000 for basically a complete bathroom Reno. I had many people come to look at this job and Stephan was the FIRST person to actually ask me what I wanted to be done when he looked at what the issue was. I decided to go ahead with replacing all the tile in the master bathroom as well as fixing the shower base including the plumbing. I was extremely happy with the work that was done, A month later I decided to have adept services come back and put new hardwood flooring on the main floor and upstairs hallway and master bedroom, replace the staircase and scrape the rest of the popcorn ceiling on the main floor. I was extremely happy with the work that was done. Adept services was very good at staying within the budget I had for the work and was very very flexible with my difficult schedule for timing of the work needing to be done. Stephan was very knowledgeable and skilled at what he does. Would highly recommend this company and will definitely be using them for any future renovations."
Scott in Oakville
RAILING ADDITION & FRONT PORCH REPAIR: "Adept Services completed a rail installation and front entry stair resurfacing on our front porch. They worked very hard to find a matching stone to what we have on the existing walkway. They listened carefully to what we wanted and worked with us to design the best option.The crew was very professional and on schedule. They arrived on time and completed a full clean up when finished. At no time were we left with any inconveniences. We fully recommend them and are looking to use them for future projects."
Tsekedi & Eva Matthew Mississauga
RUSH BATHROOM RENO: "Hired Adept Services for a bathroom renovation. We needed to do a complete bathroom reno in a short period of time, and within a few weeks of contacting Stephen. He was very patient and understanding through the whole process. They did a great job considering the time constraints and we are very happy with the final result."
Sarah of Toronto
BASEMENT BATHROOM: "Stephen and Petegay Dixon did a remarkable job on my basement bathroom. Their professionalism was incomparable. They took time to explain what they were doing, how much it will cost and the quality of the work was neat and never left a mess at the end of the day. That meant a lot to me. It is hard to find honest contractors today but I was exceptionally pleased with the outcome of my bathroom."
Alexis from Mississauga
SIGNAGE TIMER REPAIR: "I had Stephen repair the timer (an old fashioned timer not a digital timer) for my signage at my business a few wks ago he was the only one who knew how to fix the problem as i had 3 others have a go at it, he is honest, sincere and his price is very reasonable. I will not hesitate to use his service in the future and i have recommended him to a cousin."
Anna from Milton
Our promise as a trusted renovation contractor is to build community value into every project while delivering professional expertise, exceptional customers service and quality construction.